New York's hottest design duo, the gender-bending real-life couple known asThe Blonds (Phillipe and David), are one of the most creative, outrageous and certainly the biggest and most media-hyped fashion brands to have come out of the city that never sleeps since Heatherette.
Designing for both women and men, The Blonds have been called 'The Kings of Bling' and their intricately extravagant and ultra-glamorous creations, which tend towards the theatrical and possess a certain sense of old Americanvaudeville/carnival given new 21st Century life, have graced the forms of everyone who is anyone. They created Rihanna's tour outfits, Samantha's spiked and bejewelled suit in the Sex And The City Movie, and even a drag queen Barbie doll that became maker Mattel's most sought after Barbie in history: The Blonds Diamond Barbie. The pair have a long standing relationship with pop's current princess Katy Perry and they were the ones responsible for that candy dress from the star's California Gurls video.
The Blonds are renowned for their goddess making ability and are in high demand with the who's who of the biggest popstars of today. They are the designers of choice for creating stunning one-of-a-kind-outfits that are worn on stage and in music videos. Kylie, The Pussycat Dolls, Miley Cyrus, Cheryl Cole, Pink, Alicia Keys, Adam Lambert and the big guns: Nicki Minaj, Britney Spears, Beyoncé and Lady Gaga have all been bejewelled, bedazzled, gowned and corseted, studded and spiked by Phillipe and David. Chances are that you have seen and coveted a Blond creation, even though you may not know it.
In an exciting move that brings their extravagant creations away from the red carpets and MTV, and makes them more accessible to us 'everyday people', The Blonds have joined forces with VFILES (the new online archive and creative hub from the folk behind V Magazine and V Man) to create a line of nineties inspired unisex sports/work out gear: The Blonds Sport!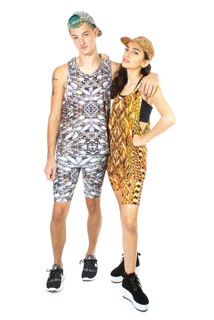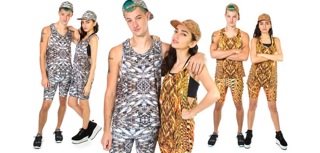 The tiny capsule-line includes a snapback hat, and tank and biker shorts that each come in two mirrored, kaleidoscope designs of gold or silver (similar to one shown in the AW12 runway collection) with signature Blond embellishments of chains and spikes! These designs are certain to get you noticed, be it on the street or in the gym. The beauty of the line is in the ability for each piece to be paired with other items in your wardrobe, say the tank over your favourite skinny jeans or the shorts with a fitted biker jacket. They are not cheap however, each comes with a hefty US$230 price tag.
Women (and many men) around the world will be hoping this is not the last foray into ready-to-wear by The Blonds. In case it is, get in on the action quick and own a piece of celebrity worthy glamour yourself at a fraction of the cost, while it lasts.
Ian Michael Turner
Article originally written for and published by: http://www.theupcoming.co.uk/2012/09/03/the-blonds-vfiles-meet-halfway-and-introduce-capsule-collection-the-blonds-sport/
See just who is wearing The Blonds here
Shop The Blonds Sport here
Discover the fabulous world of The Blonds here